Full Guide of The Deathstroke Costume
Deathstroke the Terminator, ( real name Slade Wilson) is perhaps the best mercenary and assassin in the DC Universe. His long, tragic yet amusing history has bought him a worldwide audience as well as appreciation. At the age of 16, he joined the US Army and showed outstanding military skills which immediately led to being promoted to the post of Major and later Lieutenant Colonel. Soon he married Adeline Kane and had two sons Grant and Joseph Wilson. The  failure of a medical experiment for which Slade had volunteered led to him being able to use 90% of his brain. This increase helped him gain superhuman powers such as enhanced intelligence, physiology, strength and immunity. He stopped aging and was able to regenerate. Unfortunately, everything comes with a price. Slade lost his good side in an attempt to regain his position in army. He got affiliated with many groups and worked as an assassin, ultimately leading to the name being known as Deathstroke the Terminator. Being a tragic hero Deathstroke has great popularity amongst hardcore DC fans. People often prefer dressing up as him at cosplays, comic cons and parties. To aid you in dressing up as Deathstroke the Terminator, we provide you with an ultimate Deathstroke Costume that too at reasonable prices. So read on and explore!
This cool, tough-looking jacket is a prominent feature of Deathstroke's signature style and a Deathstroke Costume remains incomplete without it. With armour on the front this jacket reflects Deathstroke's combatant skills. Surely,  a must-buy product!
The Deathstroke helmet has its one side fully covered with the other with an eyehole. This particular design has a long sad history behind. It was a result of a murder attempt by Adeline on Slade. The failure of Slade to save his son Joseph's throat being slashed which led to lifetime muteness , caused Adeline to carry out this act. So this half- covered side is a representation of  a tragic event where when a son lost his voice ,a father lost his vision.
This Deathstroke Mask is appropriate to be worn under the helmet for it is fully covered except for the eyehole. For  your Deathstroke Costume, it is essential that you use this mask to produce the same effect as the original Deathstroke the Terminator produces.
An experienced assassin like Deathstroke never leaves evidence behind. Thus, these Deathstroke Gloves have been included in the Deathstroke Costume. These hand wear also makes your look appear bold and daring.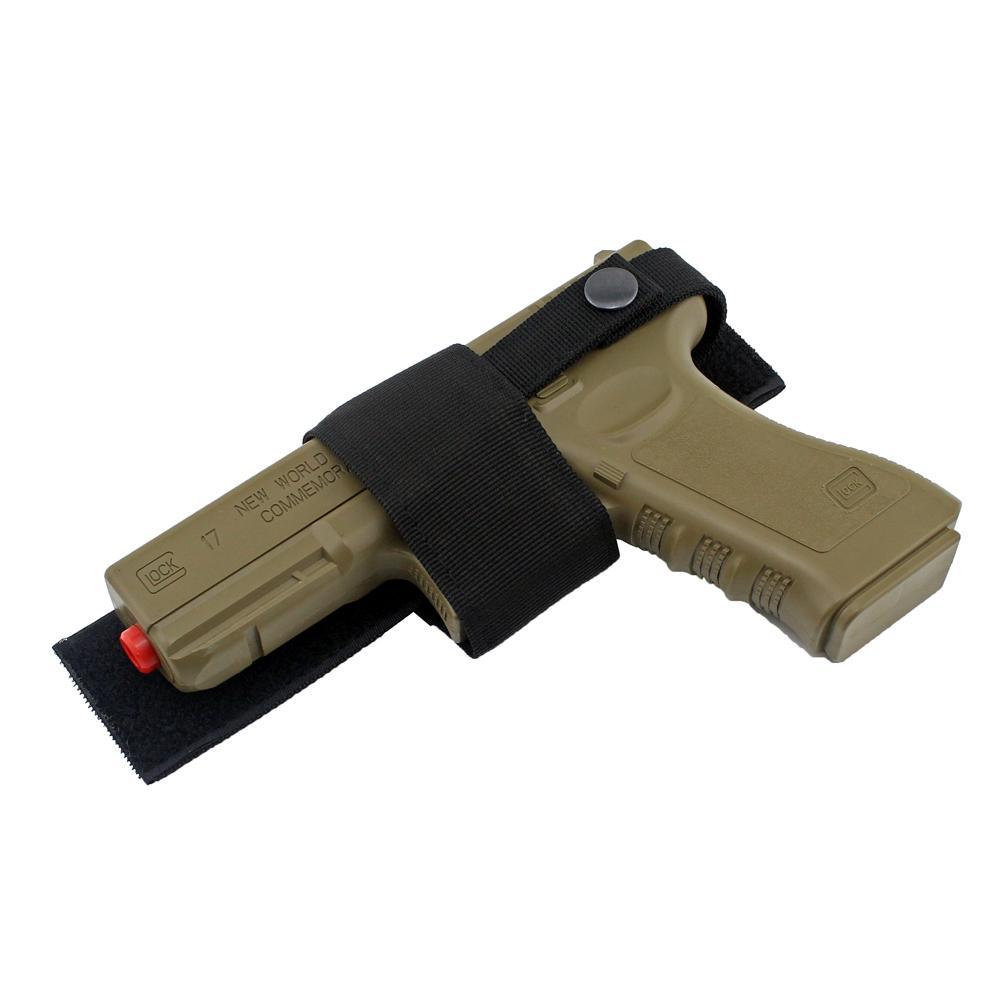 Every hero and villain keeps a weapon alongside for their journey is always unpredictable. Deathstroke prefers his Deathstroke Gun which may appear like other guns but has unique functions. Purchase this gun and explore Deathstroke's choice in  weapons.
Deathstroke Swat Belt has been specially designed to keep all his weapons in handy. It is manufactured from good durable materials and is highly adjustable.
Obviously, Deathstroke will not carry grenades in his hands. For this purpose the Deathstroke Grenade Pouch has been added to the Deathstroke Costume and also for the attire to look professional.
Another favourite weapon, the Deathstroke Grenades! He usually utilizes these grenades when his opponent is larger in number considering the ample amount of damage it causes. The ones included in the Deathstroke Costume are obviously a replica and not original ones but their realistic appearance might put someone in doubt.
These pants are made from stretchy and from a very comfortable material. Also they have spacious pockets so that you can carry your belongings anywhere in the world!
Deathstroke the Terminator is highly specific about the weapons he uses and he has been frequently seen using this Deathstroke Sword. The amazing part is that you can even act out your favourite parts of the fights using these props.
This Nylon Case is most suitable for carrying around your sword to comic cons and theatres. With its strap and zipper it is super easy to use.
A warrior like Deathstroke definitely might require protection when encountering deadly battles. These knee and shin guards are perfect to demonstrate the ruthless battles from which Deathstroke always manages to emerge as the winner. Buy these to make your Deathstroke Costume outstanding.
Deathstroke Boots have a very strong grip and are not only an excellent choice for your Deathstroke Costume but for hiking and long walks too. These long black boots have an inner fabric lining which provides comfort and ease. Indeed, a worthy investment!